Indian Families
William H. Weaver is sitting; Augustus Bass is standing behind him. The Weaver family were indentured East Indians (from modern-day India and Pakistan) who were free in Lancaster County by about 1710. By 1732 they were taxables in Norfolk County and taxable "Mulatto" landowners in nearby Hertford County, North Carolina by 1741. By 1820 there were 164 "free colored" members of the family in Hertford County. In the 1830s some registered as Nansemond Indians in Norfolk County. Smithsonian Institution, Nansemond Indians, ca. 1900.
---
Pamunkey Indian Simeon Collins and his Kent County wife Pinkey (ca. 1899), Smithsonian Institution.
---
Lee Major, his wife Sarah Langston Major (a Pamunkey), and their sons: Opitchipan Major (standing), Powhatan Major (seated) and Elston Opechancanough Major, Mattaponi Indians ca. 1900 on the Mattapony River in King William County. They were counted in the 1900 census in the Mattaponi Indian Town: a 38-year-old fisherman with 26-year-old wife Sarah who could read and write with children: Powhatan (11), attending school, Chan (8), Natty Quarse (7), and Pitchapan (2).
---
Caroline Cook (born December 1840), her son George Major Cook (born October 1860), his wife Theodora Octavia Cook (born May 1863), and their children: Major Thomas (born December 1887), Ottigony Pontiac (born August 1889), George Theo. (born September 1891), Capitola Ulalah (born May 1893), and Coma Deerfoot (born September 1897). Smithsonian Institution Photo no. 880.
---
Leah Langston (born June 1846), Virginia Allmond (born May 1883), Ellen Allmond (born September 1880), Reverend Alexander Allmond, Pinkey Allmond (born June 1860), and Delliah Allmond (born March 1877). They were considered to be Pamunkey Indians. Smithsonian Institution Photo no. 895.
Alexander Allmond was the son of Thornton Allmond, a "free Mulatto" from Gloucester County, and his wife Dicy Major of King William County. Thornton Allmond probably descended from Jenny Alman, head of a Gloucester County, Virginia household of 10 "other free" in 1810.Leah Langston, widow of Holt Langston, was the daughter of John Langston and Oney Winn and granddaughter of Curtis Winn, a free "Mulatto" from King William County.
---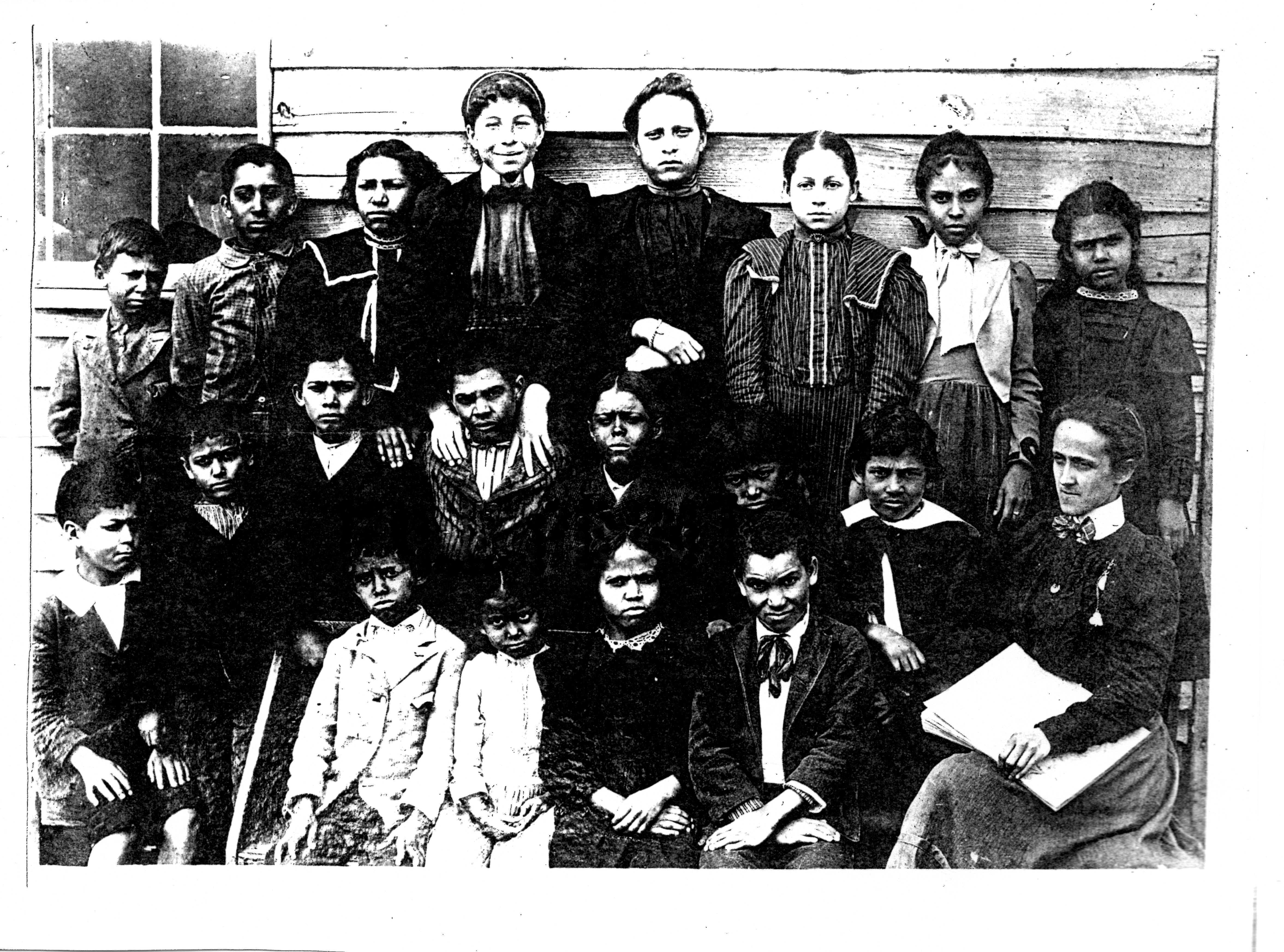 Pamunkey School in 1900. Smithsonian Institution photo no. 866

---

If you have photos of families from the same period or earlier which you are willing to publish on this site, please contact me at paulheineggATgmail.com (substitute @ for AT)